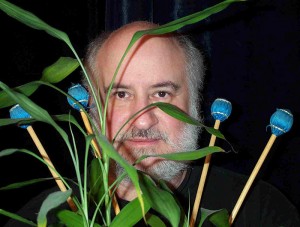 Fulbright-Hayes Fellow, Michael Udow, was the 2014-15 Composer-in-Residence with the Colorado Chamber Orchestra. Michael has composed operas, film scores, orchestral and wind ensemble works as well as numerous chamber music and solo compositions. His distinctive compositional voice eludes categorization. Quite often, his rhythmically engaging complex contrapuntal lines with dense timbres weave effortlessly with memorable melodic lines.
The Richmond Times-Dispatch review by Clarke Bustard of the premiere of The Shattered Mirror Suite performed by the Richmond Symphony states:
"It is a suite of symphonic dances, mixing old European modes with complementary non-Western sounds and styles. The suite is straightforwardly melodic and conventionally orchestrated. Udow injects plenty of syncopated rhythm and intricate counterpoint in his wind parts." The symphony's music director, George Manahan, for whom Udow has played in the Santa Fe Opera orchestra, gave "The Shattered Mirror" an energetic, well-articulated introduction last night at Virginia Commonwealth University. Alan Paterson made a convincing soliloquy of Udow's long introduction for solo French horn, and cellist Neal Cary projected his folkish solo with a balladeer's sensibility."
Having retired after a distinguished career at The Santa Fe Opera (Principal Percussion 1968 — 2009) and the University of Michigan (1982 — 2011 Emeritus Professor), Michael devotes his full time energies towards composing. Michael continues to provide short term composition and percussion residencies at conservatories and universities around the world. In 2013 this included residencies in China, Japan and Korea. His inspiring composition teachers included Warren Benson, Herbert Brün, Edwin London, Thomas Fredrickson, Paul Steg, Wlodzimierz Kotoński and he credits Salvatore Martirano, Ben Johnston, Gordon Binkerd, Morgan Powell and Neely Bruce for their informative contributions. Michael's exceptional percussion education began with Doc Meyer and continued with Bob Lee, F. Michael Combs, Jack McKenzie, Frederick Fairchild, Russell Hartenberger Michael Ranta, Alan Abel and his BM, MM & DMA professor, Thomas Siwe.
Born in 1949 in Detroit, Michigan, Udow began his musical studies at the piano. After several years, he gravitated towards percussion. At the age of eleven his family moved to Wichita, Kansas where he joined the Wichita Youth Symphony. In his first rehearsal with Roger Roller on the podium conducting George Enescu's Romanian Rhapsody, Udow recalls being overwhelmed with the of the sound world of the strings, winds, brass and percussion; this pivotal experience provided the pathway for his life, which continued with four summers at the National Music Camp at Interlochen where his percussion teacher, Jack McKenzie encouraged Michael to compose and later. Later, at the Interlochen Arts Academy, Michael began his formal composition studies with Warren Benson.
Arriving at the University of Illinois in the fall of 1967, John Cage's monumental Music Circus "happened". Michael performed Ben Johnston's Knocking Piece with Jocy de Oliveira in synchronization to an animated film of the poly-rhythms. He also performed Morton Feldman's King of Denmark with Merce Cunningham dancers improvising to the music. That was the beginning of Michael's comprehensive college education interacting constantly with composers. During his undergraduate studies Michael received a BMI Student Composers Prize for his composition, Seven Textural Settings of Japanese Haiku. After joining the New Orleans Philharmonic and then on to the Fulbright to Poland, Michael returned to the United States to tour with the historic groundbreaking Blackearth Percussion Group. Ultimately returning to Illinois with a Creative Arts Fellowship, he continued his composition studies and matriculated with a MM and the first DMA degree in percussion performance from the University of Illinois in 1978.
After late nights during summer months at the opera and while teaching during the winters, Udow continued to compose, including two operas as well as numerous symphonic, chamber and solo works.  Michael recently completed Stepping Stones, a marimba duet, for Eriko Daimo and Pius Cheung and is currently completing a new orchestral and a new wind ensemble work.