EQUILIBRIUM DANCE & PERCUSSION DUO
Nancy & Michael Udow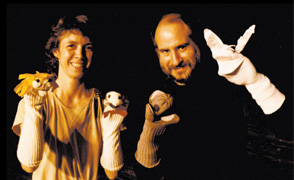 A cinematic documentation of the thirty-seven year performance collaborations of Nancy and Michael Udow including:
3+ hours of performance footage
Interviews of the performers giving background information on their compositions, performing and touring experiences
Director's track (optional) which gives detailed commentary on structural forms and the initial impetus of their creative work
"Dynamic Music and Dance Duo — a rare collaboration. This highly sophisticated form of dance and music was a rare treat for Wesleyan." – Anne Lemos, Wesleyan Argus, October 10, 1978
"The Udows are relaxed, skillful performers…They are exciting to watch, both in their dynamism and maturity." – Claire Hayes, New Dance England, Number 11, Summer 1979
"…the Udows' means and their ends, like their individual abilities as performers, are indeed in a state of perfect equilibrium." – James Wierzbicki, St. Louis Globe–Democrat Nov. 11, 1981
Included on this DVD:
Stepping on Stars
Over the Moon
Oh My Ears & Whiskers!
Flashback
Tacit
Figures
Duet
Matter of Time
Cycle, Retrace, Progress, Be Still
Traveling Music by Michael Kowalski
"Tour Stories" with a Slideshow of selected Programs, Brochures, Posters and Reviews.